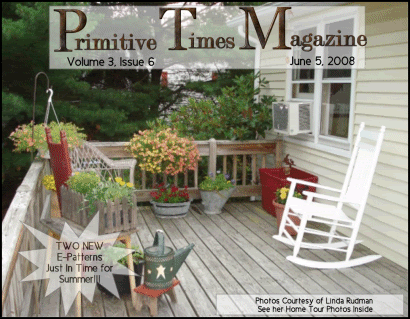 Primitive Times Magazine June 2008 Edition Click to
WATCH ONLINE
Or Click below to view download PDF
Version
We have TOTALLY Redesigned our Magazine!
Not only does it look Beautiful! But it has GREAT content too! We are taking ads
for our July issue and we have already filled half of our spots so please please
get your ads in asap! With your July Ad you can include a FREE coupon PLUS get a
Full page on our site with up to 9 product photos if you purchase a 1/4 ad or
larger! So click here to reserve your spot in our beautiful NEW Magazine!
Click here to reserve your Spot today!
Also if you like our magazine and enjoy
it every month consider making a donation to help offset the cost of production!
Just click the button below and donate ANY Amount you want! Thank you

Inside our June Edition
There are TWO Great E-Patterns
A 10 Page Home Tour with wonderful photos
Pages Filled Yummy Recipes
WAHM and Primitive Crafter Business
Advice
Featured Crafter- Kristie Norman


Spotlight Ads
And Sooo much more!

Click to download our
latest edition HERE
Help Promote
Primitive Times Magazine by adding our graphic below to your site and linking it
back to Primitive Times Magazine just click the code in the box and you are all
set!
<a href="http://www.primitivetimesmagazine.com"><img src="http://i162.photobucket.com/albums/t279/primtalk/NEw/PTMmagazinedownload.gif">