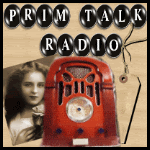 I have the best news to tell you! Angie Wenke, just bought Prim Talk Radio and she and some of the editors from Primitive Times Magazine are going to be doing craft podcasts. Angie officially takes over the first of April, but she and some of the editors of Primitive Times Magazine have already been doing some Prim Talk Radio crafting segments.

You might be wondering exactly what Prim Talk Radio is. Well, according to its' founder, Niki Jackson, of The Vintage Artist, Prim Talk Radio is an online internet radio show & podcast for primitive crafters.

What, you don't know what PODCASTS are?

Well, according to the Wikipedia Encyclopedia they are as follows:
A podcast is a media file which is distributed over the Internet using syndication feeds, for playback on portable media players and personal computers. Like 'radio', it can mean both the content and the method of syndication. The latter may also be termed podcasting. The host or author of a podcast is often called a podcaster. The term "podcast" is a portmanteau of the name of Apple's portable music player, the iPod, and broadcast; a pod refers to a container of some sort and the idea of broadcasting to a container or pod correctly describes the process of podcasting.
Though podcasters' web sites may also offer direct download or streaming of their content, a podcast is distinguished from other digital audio formats by its ability to be downloaded automatically, using software capable of reading feed formats such as RSS or Atom.

Prim Talk Radio in other words is a series of FREE radio show segments that can be downloaded as MP3 files directly from the website or syndicated through podcast subscriptions. The radio segments can also be can be played for your listening pleasure directly from the Prim Talk Radio website.
I have listened to many of the craft radio segments while working on my computer and have enjoyed each and every one of them. It's a great way to learn a new crafting skill while whiling away the hours on the computer.
So, if you haven't tuned in to Prim Talk Radio yet do yourself a favor and do so. The segments have been fabulous so far and with Angie and some of her Primitive Times Magazine editors involved now it should only get better.
Tune in to Prim Talk Radio and learn something new today.



Copyright © 2007 - All Rights Reserved - Written By Linda Walsh of Linda Walsh Originals, Linda Walsh Originals E-Patterns, and Linda's Blog. Linda is a doll maker and doll pattern designer. http://lindawalshoriginals.com