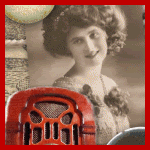 Week of Friday, April 7,
2007 (Show #52)
We publish a new show every Friday morning. You can
listen whenever it fits your schedule! If you have a pop up stopper, you may need to give permission for a new window to open.
Welcome everyone to our first show on Prim Talk Radio as the new owners! We have a LARGE show for you today so we invite you to sit back and relax and enjoy our Crafting Radio Show.
Today's Show:
Angie Murray (A New Contributor) from Angie's Country Candles will be discussing a little bit about her upcoming segments on candlemaking and candle tips.
Angie Wenke from Heartland Graphics will be offering a great new craft project a Potpourri Pie.
Renae from the Prim Clipper is back with some great Easter Craft projects and yummy recipes to try.
Learn about our great new Grand Opening Contest and Advertising Specials for our Grand Opening of Prim Talk Radio.
Debbie from Two Old Crows is back to share with us how to paint on metal objects.
Angie Wenke from Heartland Graphics will share a new weekly segment on Scrapbooking, her topic today is Digital Scrapbooking.
Talena (A New Contributor) from Marketplace Square Craft Fair will be sharing great tips for being in a Craft Show.
For more information on our Grand Opening Contest please click here
For more information on our "DOUBLE IT" Advertising special please click here
Songs on our April 6, 2007 Podcast are from
Podsafe Music
Adrienne Pierce-Song Title "Beautiful"
Caitlyn Smith-Song Title "Breathe Deep"
CLICK to LISTEN NOW to Prim Talk Radio
We hope you enjoy the show!