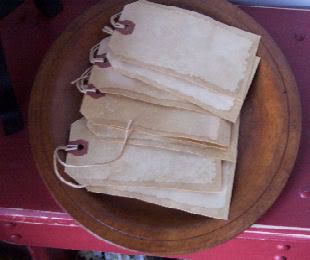 Microwave Hang Tags:
A recipe for grubby hang tabs. It works great, and you don't
need to turn oven on.
2 cups of hot water
1/4 cup instant coffee (dry)
2-3 tea bags (let seep for a bit)
3 Tablespoons imitation vanilla
scented oil is optional and amount depends on strength
desired.
Mix together. Soak tags in coffee mixture for 5-10 mins. Lay
on paper plate lined with paper towels. Microwave in
intervals of 40 sec, checking to make sure they don't burn.
Sprinkled lightly with real cinnamon before microwaving. You
can stamp on them or write on them. A really great look is
old time pictures applied with decoupage. Add pic of your
kids to the hang tags and use as gift tags.



Kids tip: Let the kids
personalize them and they can give for Valentines, Mother's
Day, Father's Day, Grandparents Day or for any special
event.




This recipe can be used to stain muslin also, apply with
sponge brush. Sprinkle the wet muslin with cinnamon and rub
for a great grubby look. Air dry the fabric.



~~~~~~~~~~~~~~~~~~~~~~~~~~~~~~~~~~~~~~~~~~~~~




Let's get grungy!! Tea bag trick! I want to share this
quick tip with you. Do you have lampshades that need that
fast prim touch? Take a few tea bags (may need more ready
depending on the size of the shade) Throw a cup of water in
the microwave on high to get nice and hot, let your tea bags
steep and gently wring out a little to get excess water
off. Simply dab or blot your tea bags directly onto your
shade! Yes, it's that simple. You can do as many layers as
you'd like depending on how dark you want your stain.